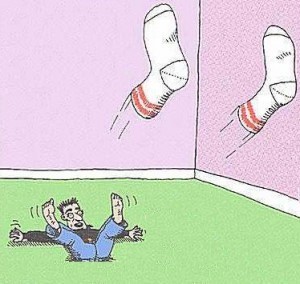 How to blow your socks of in one fell swoop!
I recently had an opportunity to visit an antiques and collectors extravaganza that would simply blow your socks off! I felt like I was at a museum that was filled with artifacts from one side of the world to the other and lots in between. I really don't go to buy; unless it's extremely out of the ordinary and I have to have it for some unknown crazy reason; and if it's within my "very small" budget.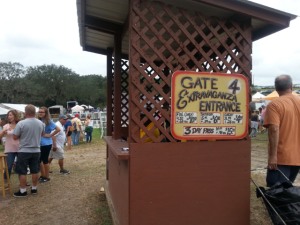 Once in, I felt like a kid in a candy store; I wanted everything! It all looked so delectable – I wanted it all! I felt as though I could use everything I saw. Where I would put it; store it; or how I would bring some of this stuff home in my tiny little Ford Focus wasn't my concern. Couldn't I come up with something that I could do – maybe start a business that was decorated with some of this stuff? Ha! If you have been reading some of my posts you'll see that I have a real knack of imagining businesses that I could start and NEVER do it! My claim to my infamous fame.
The first couple I ran across were enjoying themselves more than me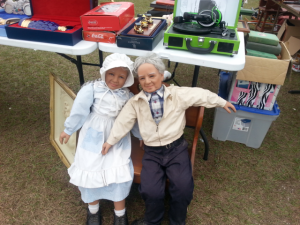 The next guy I ran into had so much time on his hands that he decided to go shopping in his closet for every belt he had and make chairs out of them!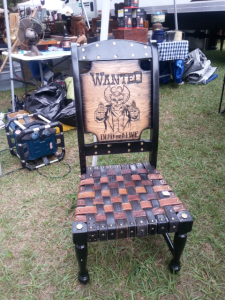 The next guy decided to tear into every car in his driveway and garage and make counter tops; Living Room couches and …I think he must've gone to the ET ride at Universal too many times or he watched the horror flick "Christine" too many times and just had to have her!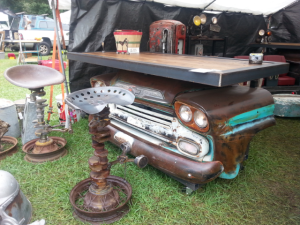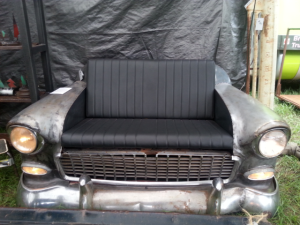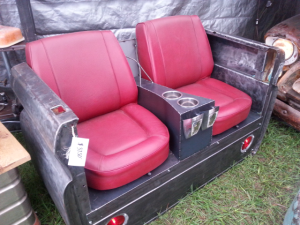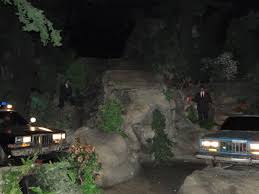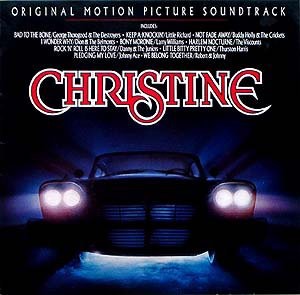 It's definitely a place to go if you want to gain all your holiday weight in one day! It's just a sin to even smell this stuff!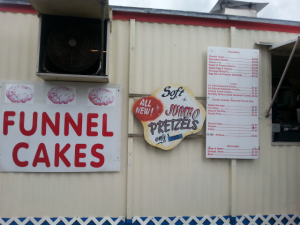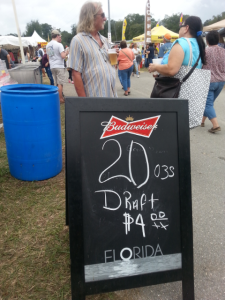 And it's a place to go where there's definitely no political correctness! You can just be who you are and no one is going to bother you, correct or offend you or make you leave. That kind of seals the first amendment from our constitution in the USA at this extravaganza!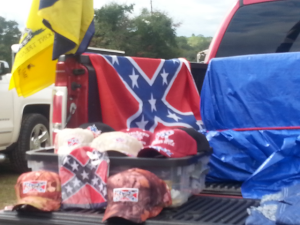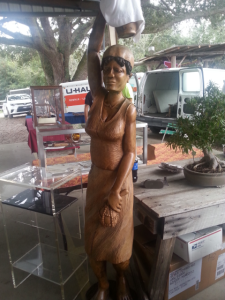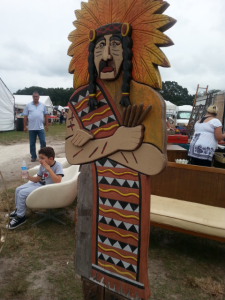 We've got the old fashioned roller skates that I used as a kid and that always reminds me of that all too familiar song: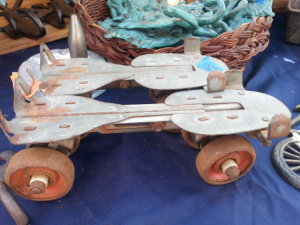 Shutters are not used for what they used to be for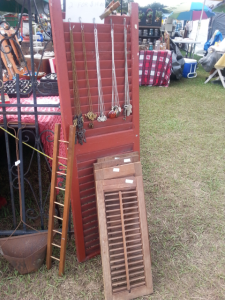 And there's a phone from my house growing up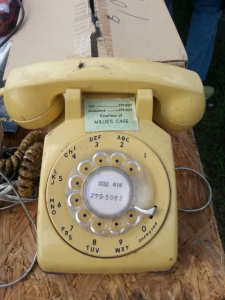 This chair was outside my parent's house in Miami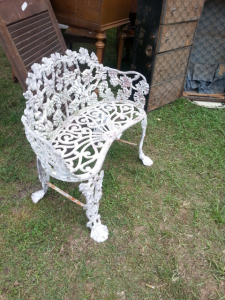 And the step stool at my grandmother's house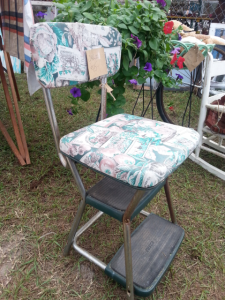 We owned a phone like this in my house growing up…(I guess for kicks….it was hooked up and operable)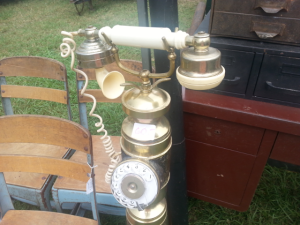 My grandfather had a lawn mower like this one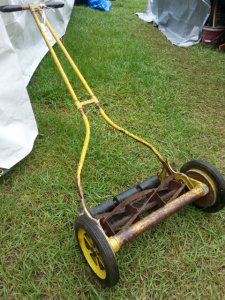 My grandmother worked in the sweat shops in NY city and used a sewing machine like this one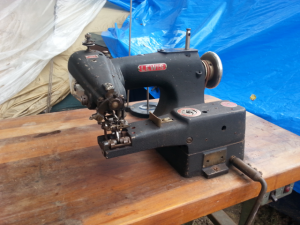 This looked like what I had in my room as a teenager growing up….listening to Grand Funk and Deep Purple on 8 track and/or cassettes!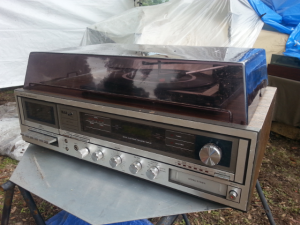 Selling pickles only takes me back to the motorcycle song…. and the pickle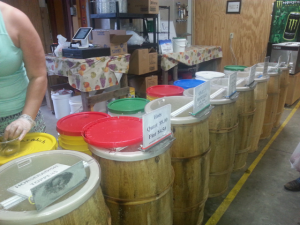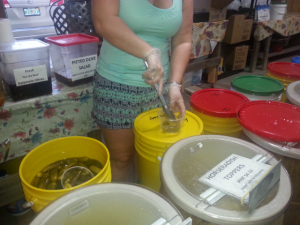 I actually still could fit into this classroom desk that we can all say that we remember! Just love this stuff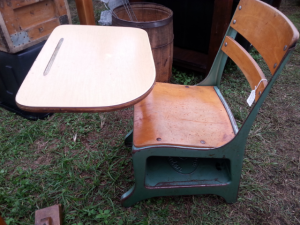 Better not weigh too much or your fortune will be doomed!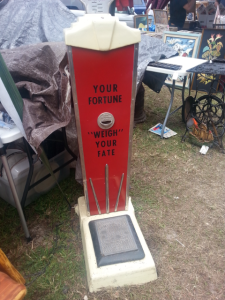 I made so many of these that this one is probably one of mine!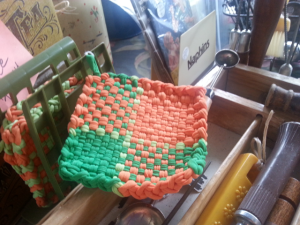 This fan was in my grandmother's house in the Florida room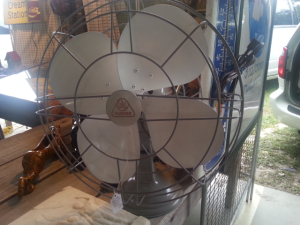 My parents owned a Bath Shoppe that had one of these old tubs in the window vinette
The old fashioned way of listening to music in a diner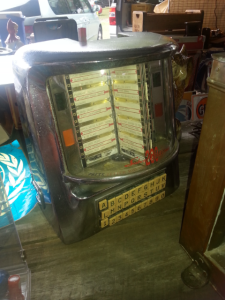 My dad had a cash register like this in his first business….(at least he had a business that was successful and not just a dream of one!)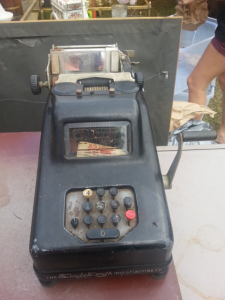 Listening to the radio at my grandparents house…..I didn't even tell you about having to watch Lawrence Welk on Sunday nights if I spent the night at their house! (In black and white no less!)
How about the projector in Science or History class in school?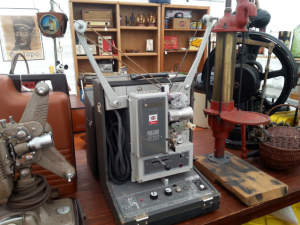 This must've been where Ronald McDonald started his career!!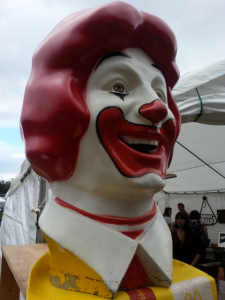 Don't the barber chairs still look like that?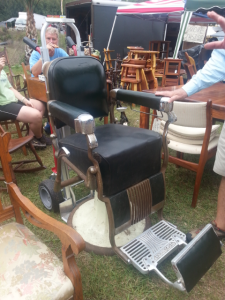 This lady had the right idea going on…what a great way to haul stuff!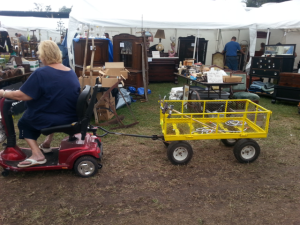 At one point I was ready for some "wine"!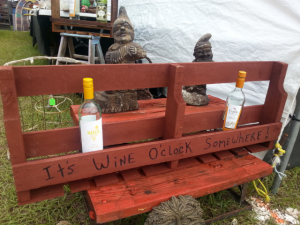 I wish I had one of these when I was a kid! Is that old or new?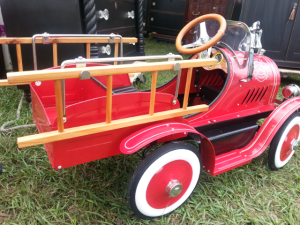 An old stove from back in the day; but I can't hardly see it as a TV stand??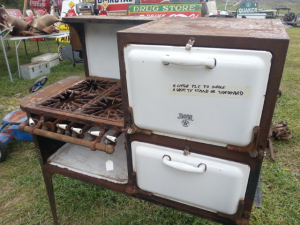 Buffalo Bill's girlfriend grabbing her some!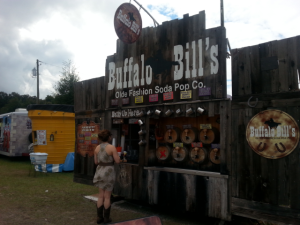 "Hush, hush Sweet Charlotte" (for those of you who don't know what I'm talking about….just Google it!)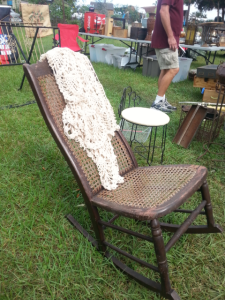 And the end result of what I took away from this AWESOME adventurous day of Thrifting or Antiquing or Strolling….or whatever strikes your fancy……was….
* It got my mind off of the daily hustle and bustle
* Relaxation at it's best
* Memories were flowing like Niagara Falls
* Got to get some photography muse going
* Pleasant people to be around
* Exercise – walking several miles and then some
* Being strong enough to hold back from the bad foods!
* Freely speaking my mind; thoughts & beliefs
* Meeting some great people from all over the world
ETC….ETC….ETC…
What a way to spend the day!!! It just blew my socks off!!
Hope you enjoyed my rendition of some Therapeutic Thrifting!

Day 7 is yet to come!!
Valerie