Now that one holiday is over and all of the house guests are gone, it's time to start getting back on track. This means getting back to the normal routine – fruits, vegetables, and lots of exercise. In other words, it's time to begin my Thanksgiving holiday detox! I better do this before Christmas is here and this vicious cycle starts all over again. After all, going on a binge from Thanksgiving to Christmas through New Years could be deadly and hard for your body to recover from in a healthy manner!
Although, I could just refrain from eating all the bad stuff and just be a nerd and not have any fun at all…..uh….I don't think I'll go that far….but I more than likely will be somewhere in between on Santa's naughty or nice list.
While I was writing this blog today, I came across this fun website that struck my fancy especially at this time of year. For those of you who have kids or just love being a kid yourself; check this out! I had so much fun with it! (click link below photo)
Back to the Holiday Detox
Undoubtedly, around holiday times, I would always have these nagging questions embedded deep into my subconscious: what do I do with all the cakes and cookies? What about all the leftover candy, desserts, champagne?
Several years ago, I discovered the best way to control my urges to eat everything at once and return to my normal diet. I concocted this awesome Detox Blast. It was refreshing and helped cleanse my body of the sugars I'd been enjoying for weeks. I love this one first thing in the morning after my workouts!
I made this Blast every morning for three days and I'm happy to say that my digestive track was no longer singing the blues. And I didn't crave the sugars of the holidays, either.
Thanks to the incredible, wonderful Blendtec blender and my Detox Blast for helping get me back to my normal routine!
By the way, my Blendtec blender has been the best kitchen appliance that I've purchased in years! I've turned on so many people to this magnificent blender that completely swear by it. I should get a job promoting it; the rate I'm going. But, all kidding aside; the expense of this machine will almost always save you with doctor bills and co-pays; that's for sure! (click link below photo)
A lot of people like to use a juicer rather than a blender. Once in a while it's good because the liquid is easier to assimilate through the body. But; a nutritionalist once told me that blending is better for you because you get all the pulp that has the most nutritional value in your drink and don't just throw it away. More bang for your buck!
I get myself all energized just writing about this and sharing it with the world!
Here's the Holiday Detox Blast Recipe:
Ingredients
• ½ Cucumber
• ½ Cup Pineapple
• 1 Apple
• 2 Tablespoons Lemon Juice
• 1 Handful Spinach
• ½ Avocado
• 1 Handful Almonds
• 1 ½ Cups Water
I generally use Granny Smith Green Apples here because it contains less sugar and is easier to maintain your insulin levels in this recipe; since the pineapple is also high in sugar as well.
Throw all of the ingredients in the blender and viola.
Enjoy!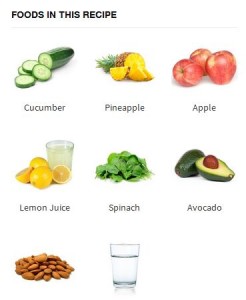 (click photo to enlarge)

(click photo to enlarge)
Getting used to a monthly detox routine could not only indirectly put money in your pocket by omitting some of those doctor visits but you just might be around longer to enjoy it!
Valerie