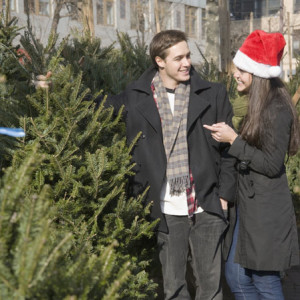 Shopping for a Christmas tree can be grueling but at the same time can be fun! I find that Christmas music, brisk cool weather (hopefully) and the fresh pine scent that immediately flashes so many memories before our eyes; can help the experience move along in a positive direction. But having some knowledge about these Christmas pines might help make it a little more fun and enjoyable too.
(Please feel free to play this Christmas jingle while you read – and you'll see what I mean. Sorry I can't produce the pine scent but you can surely imagine it)


Here are some fun Christmas tree facts and trivia that I bet weren't exactly on the top of your history teacher's list of lessons you learned growing up; but could make for great family gatherings conversation during this holiday season……..
Christmas trees have been sold commercially in the United States since about 1850.
In 1979, the National Christmas Tree was not lighted except for the top ornament. This was done in honor of the American hostages in Iran.
Between 1887-1933 a fishing schooner called the Christmas Ship would tie up at the Clark Street bridge and sell spruce trees from Michigan to Chicagoans.
The tallest living Christmas tree is believed to be the 122-foot, 91-year-old Douglas fir in the town of Woodinville, Washington.
The Rockefeller Center Christmas tree tradition began in 1933.
In 1923, President Calvin Coolidge started the National Christmas Tree Lighting Ceremony now held every year on the White House lawn.
Since 1966, the National Christmas Tree Association has given a Christmas tree to the President and first family.
Most Christmas trees are cut weeks before they get to a retail outlet.
In 1912, the first community Christmas tree in the United States was erected in New York City.
Christmas trees generally take 6-8 years to mature.
Christmas trees are grown in all 50 states including Hawaii and Alaska.
100,000 people are employed in the Christmas tree industry.
98 percent of all Christmas trees are grown on farms.
More than 1,000,000 acres of land have been planted with Christmas trees.
77 million Christmas trees are planted each year.
On average, over 2,000 Christmas trees are planted per acre.
Growing Christmas trees provides a habitat for wildlife.
Recycled trees have been used to make sand and soil erosion barriers and been placed in ponds for fish shelter.
The first Christmas tree retail lot in the United States was started in 1851 in New York by Mark Carr.
Christmas trees remove dust and pollen from the air.
Since 1971, the Province of Nova Scotia has presented the Boston Christmas Tree to the people of Boston in gratitude for the relief supplies received from the citizens of Boston after a ship exploded in 1917 following a collision in the Halifax, Nova Scotia Harbor. Part of the city was leveled killing and injuring thousands.
You should never burn your Christmas tree in the fireplace. It can contribute to creosote buildup.
Other types of trees such as cherry and hawthorns were used as Christmas trees in the past.
The first decorated Christmas was in Riga, Latvia in 1510.
Thomas Edison's assistants came up with the idea of electric lights for Christmas trees.
In 1963, the National Christmas Tree was not lit until December 22nd because of a national 30-day period of mourning following the assassination of President Kennedy.
The use of evergreen trees to celebrate the winter season occurred before the birth of Christ.
In 1856 Franklin Pierce, the 14th President of the United States, was the first President to place a Christmas tree in the White House.
Teddy Roosevelt banned the Christmas tree from the White House for environmental reasons.
In the first week, a tree in your home will consume as much as a quart of water per day.
Tinsel was once banned by the government. Tinsel contained lead at one time, now it's made of plastic.
In 1984, the National Christmas Tree was lit on December 13th with temperatures in the 70s, making it one of the warmest tree lightings in history.
34 to 36 million Christmas trees are produced each year and 95 percent are shipped or sold directly from Christmas tree farms.
California, Oregon, Michigan, Washington, Wisconsin, Pennsylvania, and North Carolina are the top Christmas tree producing states.